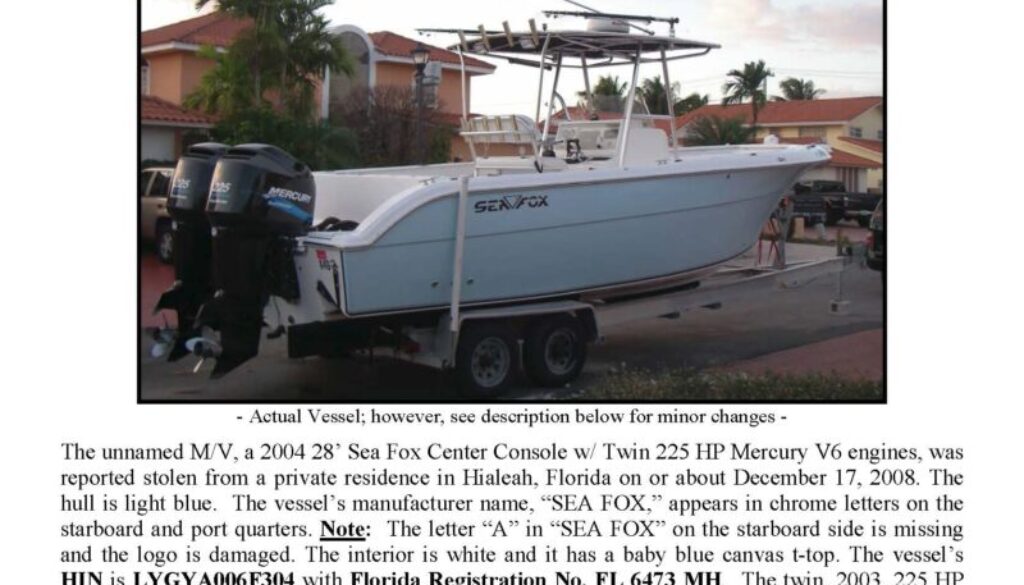 Vessel Description: The unnamed M/V, a 2003, 31' Contender CC Runabout w/ Twin 225HP Yamaha outboard engines, was reported stolen from the Brickell Place Marina in Miami, Florida on or about
December 16, 2008. The hull is light green with a thick black stripe along the starboard and port sides. The manufacturer's name, "CONTENDER," appears in black lettering on both the
starboard and port quarters. The interior is white and it has a green canvas t-top and dual stations. The vessel's HIN is JDJ31669E303 with Florida Registration No. FL 6041 MH.
The twin, 2003, 225 HP Yamaha motors have Serial Numbers: 69JX1006196 and 69KX1002408. The theft was reported to the Miami Police Department under Case No. 081217372119.
Vessel Manufacturer: Contender
Vessel Model: Center Console
State Registration: FL 6041 MH
Engine Manufacturer: Yamaha
Engine Serial Numbers: 69JX1006196 and 69KX1002408
Date of Loss: December 16, 2008