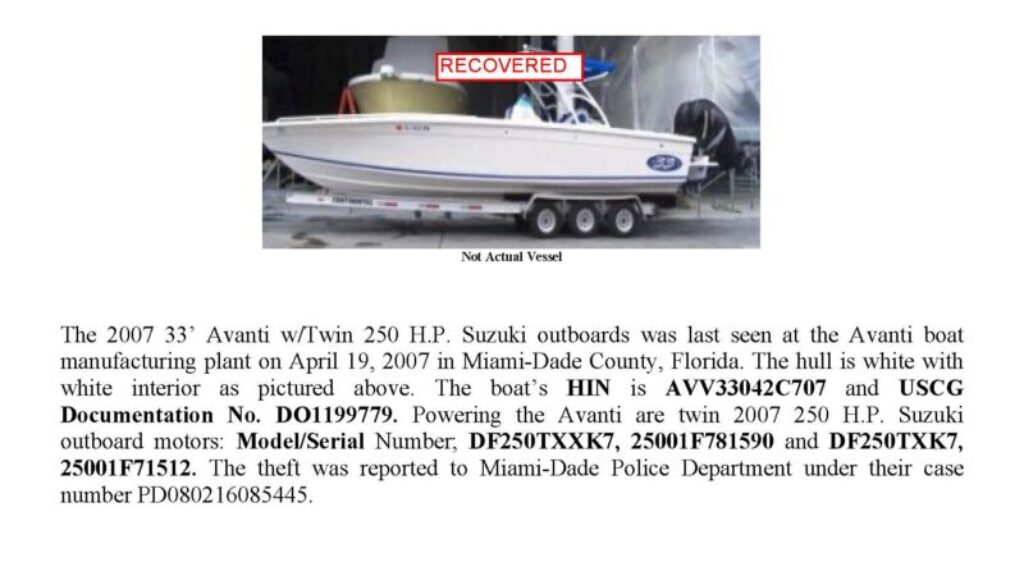 Vessel Description: The 2007 33' Avanti w/Twin 250 H.P. Suzuki outboards was last seen at the Avanti boat
manufacturing plant on April 19, 2007 in Miami-Dade County, Florida. The hull is white with
white interior as pictured above. The boat's HIN is AVV33042C707 and USCG
Documentation No. DO1199779. Powering the Avanti are twin 2007 250 H.P. Suzuki
outboard motors: Model/Serial Number; DF250TXXK7, 25001F781590 and DF250TXK7,
25001F71512. The theft was reported to Miami-Dade Police Department under their case
number PD080216085445.
Vessel Manufacturer: Avanti
Vessel Model: Center Console
Engine Manufacturer: Suzuki
Engine Model: DF250TXXK7 & DF250TXK7
Engine Serial Numbers: 25001F781590 & 25001F71512
Date of Loss: April 19, 2007