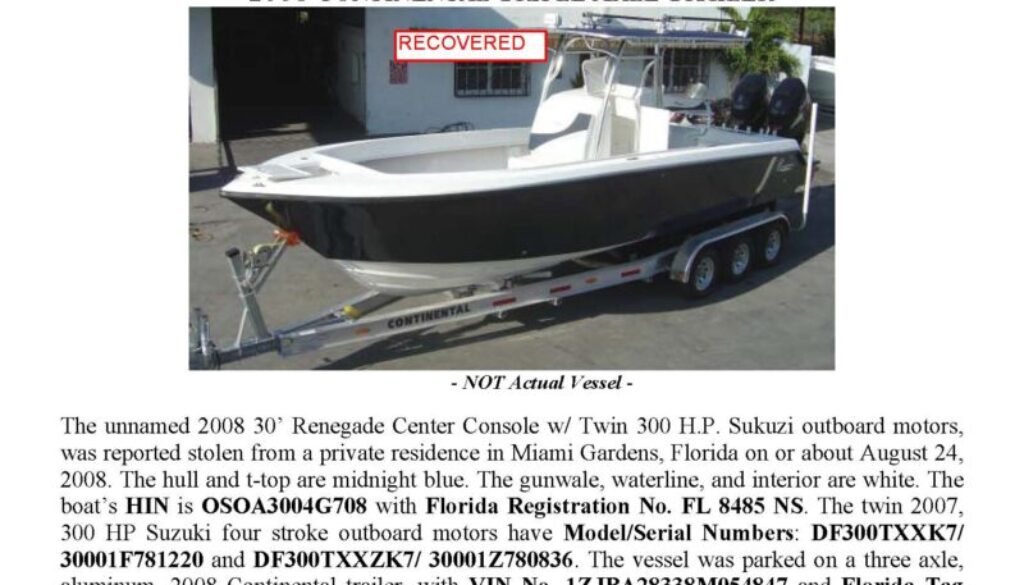 Vessel Description: The unnamed 2008 30' Renegade Center Console w/ Twin 300 H.P. Sukuzi outboard motors,
was reported stolen from a private residence in Miami Gardens, Florida on or about August 24,
2008. The hull and t-top are midnight blue. The gunwale, waterline, and interior are white. The
boat's HIN is OSOA3004G708 with Florida Registration No. FL 8485 NS. The twin 2007,
300 HP Suzuki four stroke outboard motors have Model/Serial Numbers: DF300TXXK7/
30001F781220 and DF300TXXZK7/ 30001Z780836. The vessel was parked on a three axle,
aluminum, 2008 Continental trailer, with VIN No. 1ZJBA28338M054847 and Florida Tag
No. 629KGD, which was also reported stolen. The theft was reported to City of Miami
Gardens Police Department under case number 2008018468.
Vessel Manufacturer: Renegade
Vessel Model: Center Console
State Registration: FL 8485 NS
Engine Manufacturer: Suzuki
Engine Model: 300 HP Four Stroke DF300TXXK7
Engine Serial Numbers: 30001F781220 & 30001Z780836
Date of Loss: August 24, 2008