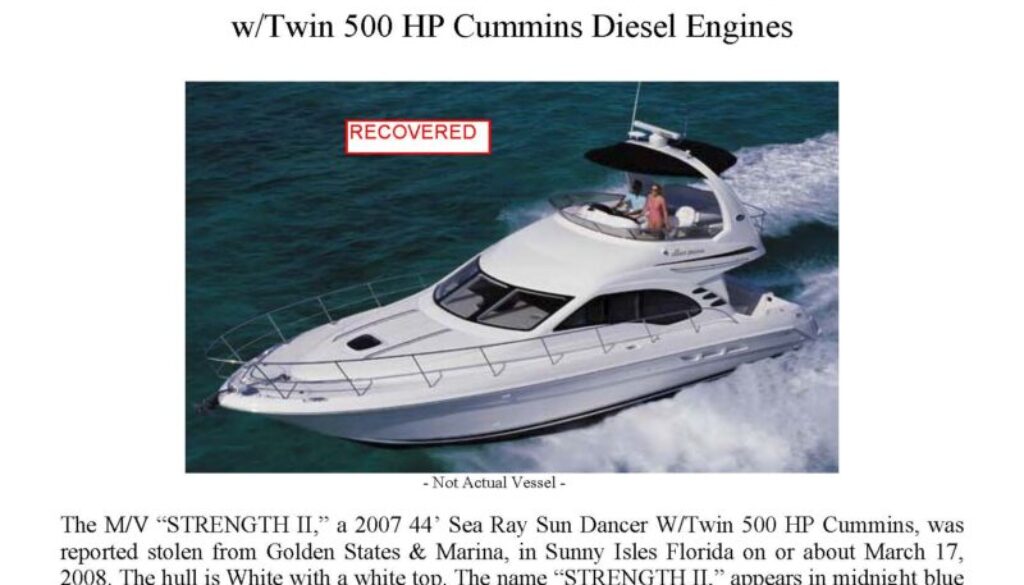 Vessel Name: "STRENGTH II"
Vessel Description: The M/V "STRENGTH II," a 2007 44' Sea Ray Sun Dancer W/Twin 500 HP Cummins, was
reported stolen from Golden States & Marina, in Sunny Isles Florida on or about March 17,
2008. The hull is White with a white top. The name "STRENGTH II," appears in midnight blue
on the transom of the vessel. The boat's HIN is SERF1324I607; US Coast Guard
Documentation DO1199737. Powering the Sea Ray are two 2007 Cummins 478 Diesel
Engines; Serial Numbers: 46648814 and 46637023. The theft was reported to The City of
Sunny Isles Police Department under their case number 08-00824.
Vessel Manufacturer: SEA RAY
Engine Manufacturer: Cummins
Engine Model: 500 HP Diesel
Engine Serial Numbers: 46648814 and 46637023
Date of Loss: March 17, 2008