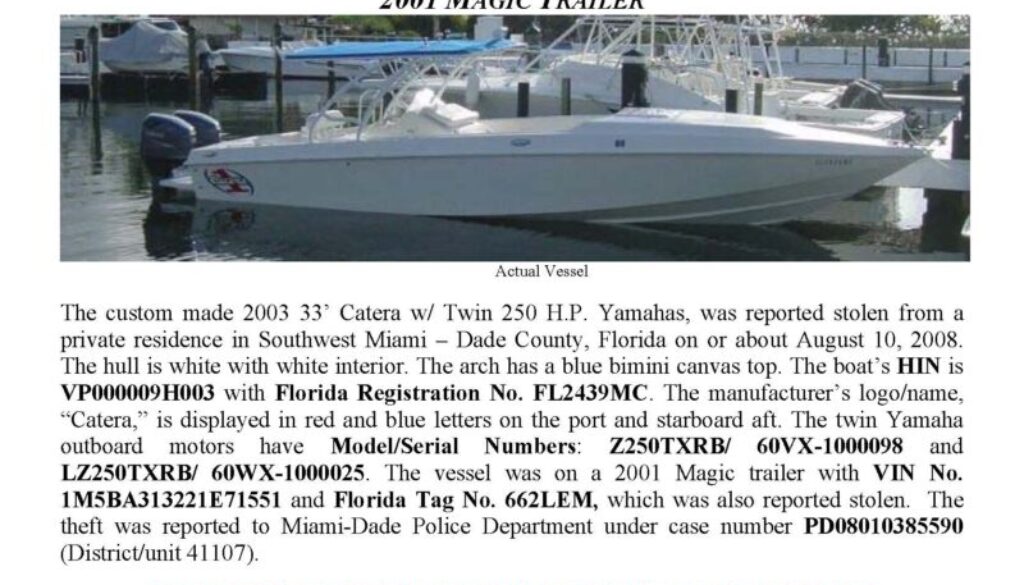 Vessel Description: The custom made 2003 33' Catera w/ Twin 250 H.P. Yamahas, was reported stolen from a
private residence in Southwest Miami – Dade County, Florida on or about August 10, 2008.
The hull is white with white interior. The arch has a blue bimini canvas top. The boat's HIN is
VP000009H003 with Florida Registration No. FL2439MC. The manufacturer's logo/name,
"Catera," is displayed in red and blue letters on the port and starboard aft. The twin Yamaha
outboard motors have Model/Serial Numbers: Z250TXRB/ 60VX-1000098 and
LZ250TXRB/ 60WX-1000025. The vessel was on a 2001 Magic trailer with VIN No.
1M5BA313221E71551 and Florida Tag No. 662LEM, which was also reported stolen. The
theft was reported to Miami-Dade Police Department under case number PD08010385590
(District/unit 41107).
Vessel Manufacturer: Catera
Vessel Model: Center Console
State Registration: FL2439MC
Engine Manufacturer: Yamaha
Engine Model: 250 HP Z250TXRB & LZ250TXRB
Engine Serial Numbers: 60VX-1000098 & 60WX-1000025
Date of Loss: August 10, 2008