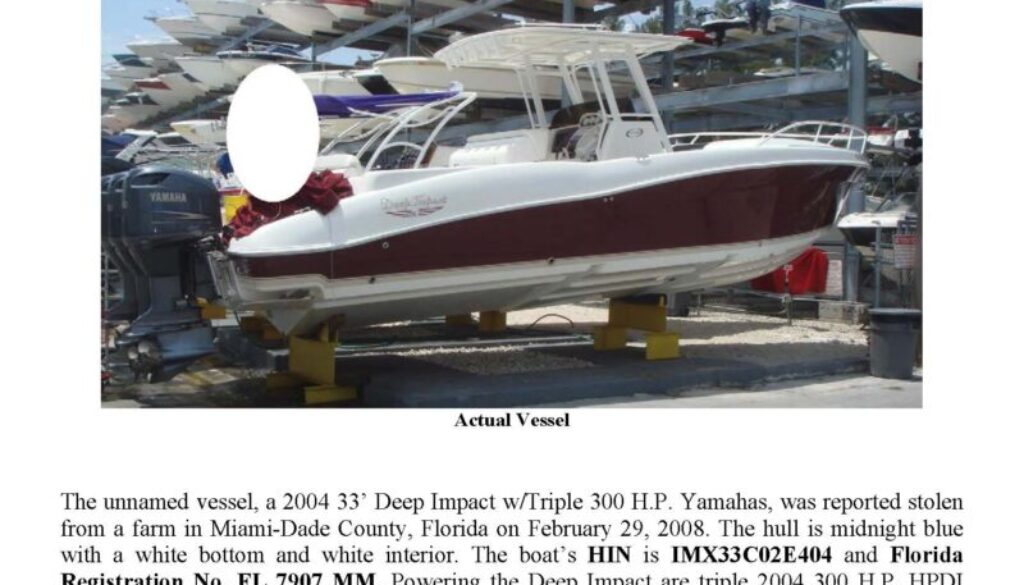 Vessel Description: The unnamed vessel, a 2004 33' Deep Impact w/Triple 300 H.P. Yamahas, was reported stolen
from a farm in Miami-Dade County, Florida on February 29, 2008. The hull is midnight blue
with a white bottom and white interior. The boat's HIN is IMX33C02E404 and Florida
Registration No. FL 7907 MM. Powering the Deep Impact are triple 2004 300 H.P. HPDI
Yamaha outboard motors: Model/Serial Number; 6DOX1001789 , 6DIX1001200 and
6DON1002454. The theft was reported to Miami-Dade Police Department under their case
number PD080229102814.
Vessel Manufacturer: Deep Impact
Vessel Model: Center Console
State Registration: FL 7907 MM
Engine Manufacturer: Yamaha
Engine Serial Numbers: 6DOX1001789 , 6DIX1001200 and 6DON1002454
Date of Loss: February 29, 2008