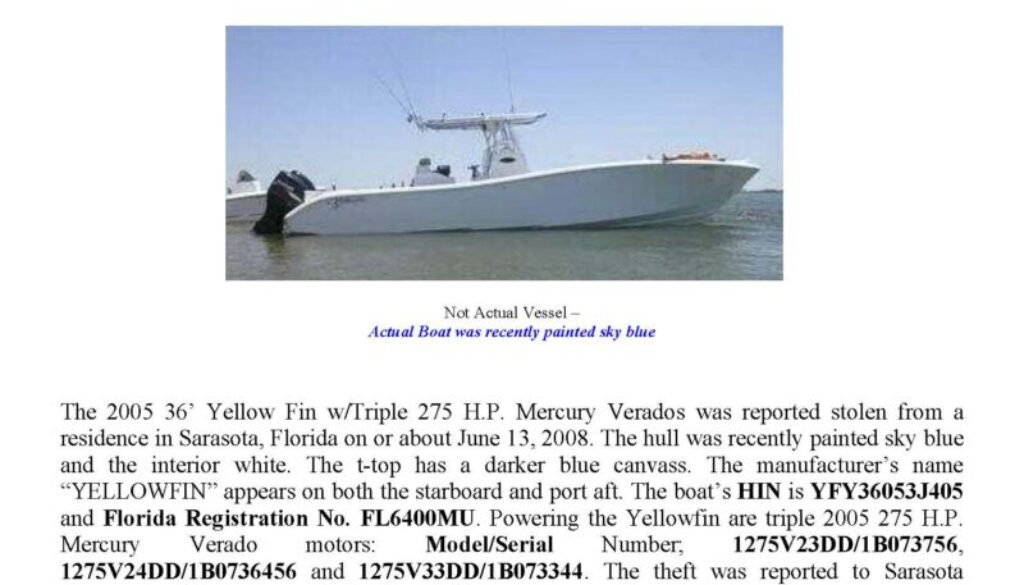 Vessel Description: The 2005 36' Yellow Fin w/Triple 275 H.P. Mercury Verados was reported stolen from a
residence in Sarasota, Florida on or about June 13, 2008. The hull was recently painted sky blue
and the interior white. The t-top has a darker blue canvass. The manufacturer's name
"YELLOWFIN" appears on both the starboard and port aft. The boat's HIN is YFY36053J405
and Florida Registration No. FL6400MU. Powering the Yellowfin are triple 2005 275 H.P.
Mercury Verado motors: Model/Serial Number; 1275V23DD/1B073756,
1275V24DD/1B0736456 and 1275V33DD/1B073344. The theft was reported to Sarasota
County Sheriff's Office under Incident/Offense Report number 200800047998.
Vessel Manufacturer: Yellowfin
Vessel Model: Center Console
State Registration: FL6400MU
Engine Manufacturer: Mercury
Engine Model: 275 HP Verado 1275V23DD, 1275V24DD & 1275V33DD
Engine Serial Numbers: 1B073756, 1B0736456 & 1B073344
Date of Loss: June 13, 2008