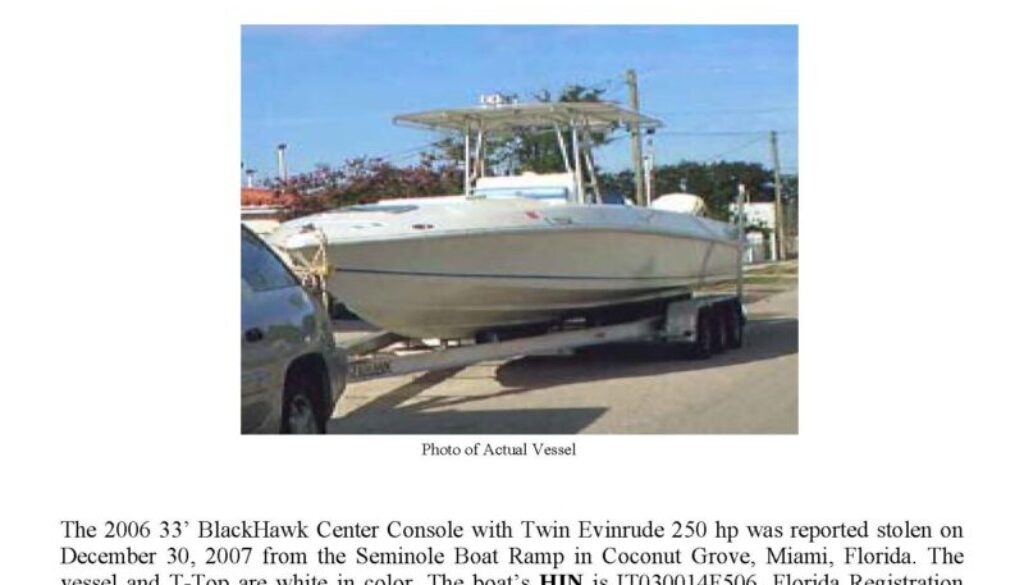 Vessel Description: The 2006 33' BlackHawk Center Console with Twin Evinrude 250 hp was reported stolen on
December 30, 2007 from the Seminole Boat Ramp in Coconut Grove, Miami, Florida. The
vessel and T-Top are white in color. The boat's HIN is IT030014F506. Florida Registration
number FL 7820 MZ. Powering the BlackHawk are two Evinrude E250 hp engines: Serial
Numbers: 05171466 and 0515B025. The theft was reported to The City of Miami Police
Department under their Incident Number 071230-387494.
Vessel Manufacturer: Black Hawk
Vessel Model: Center Console
State Registration: FL 7820 MZ
Engine Manufacturer: Evinrude
Engine Serial Numbers: 05171466 and 0515B025
Date of Loss: December 30, 2007