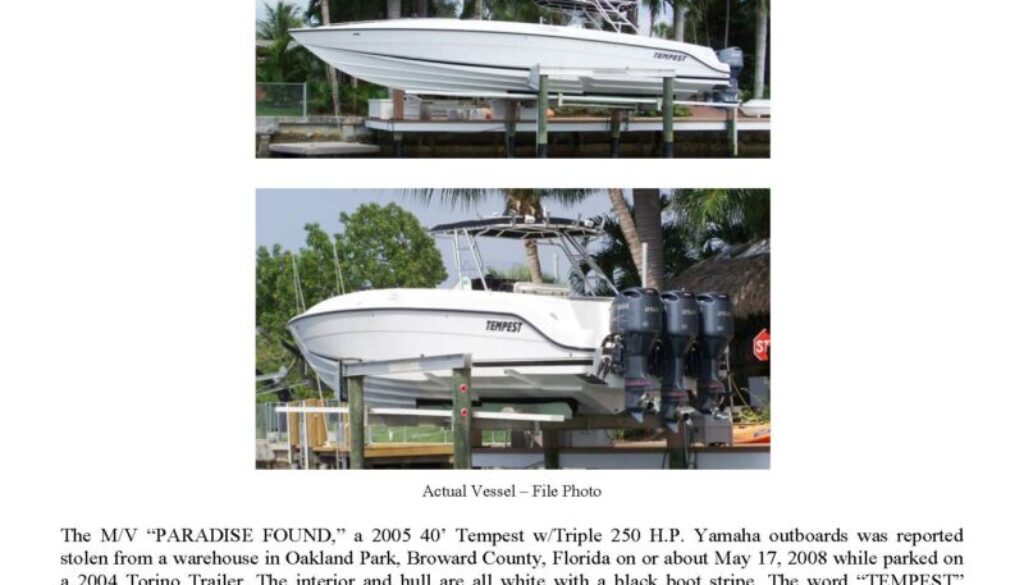 Vessel Description: The M/V "PARADISE FOUND," a 2005 40' Tempest w/Triple 250 H.P. Yamaha outboards was reported
stolen from a warehouse in Oakland Park, Broward County, Florida on or about May 17, 2008 while parked on
a 2004 Torino Trailer. The interior and hull are all white with a black boot stripe. The word "TEMPEST"
appears in black letters on the starboard and port aft of the hull. The name "PARADISE FOUND" and the
hailing port "Pompano Beach" are displayed on the transom. The boat's HIN is UTO01042F505. The vessel is
both U.S. Documented, 1193367 and Florida Registered, FL8518NH. Powering the Tempest are triple 2005
250 H.P. Yamaha motors: Model/Serial Numbers: Port Engine, 60WX-1001256; Starboard Engine, 60WY-
1001252; Center Engine, 60WX-1001140. The trailer's VIN is 121BA35314MO12256 and Florida TAG
number W587WZ. The theft of the vessel and trailer were reported to Broward Sheriff's Office (BSO) under
their Police Report number OP08-05-2313.
Vessel Manufacturer: Tempest
Vessel Model: Center Console
Engine Manufacturer: Yamaha
Engine Serial Numbers: Port Engine, 60WX-1001256; Starboard Engine, 60WY- 1001252; Center Engine, 60WX-1001140
Date of Loss: May 17, 2008