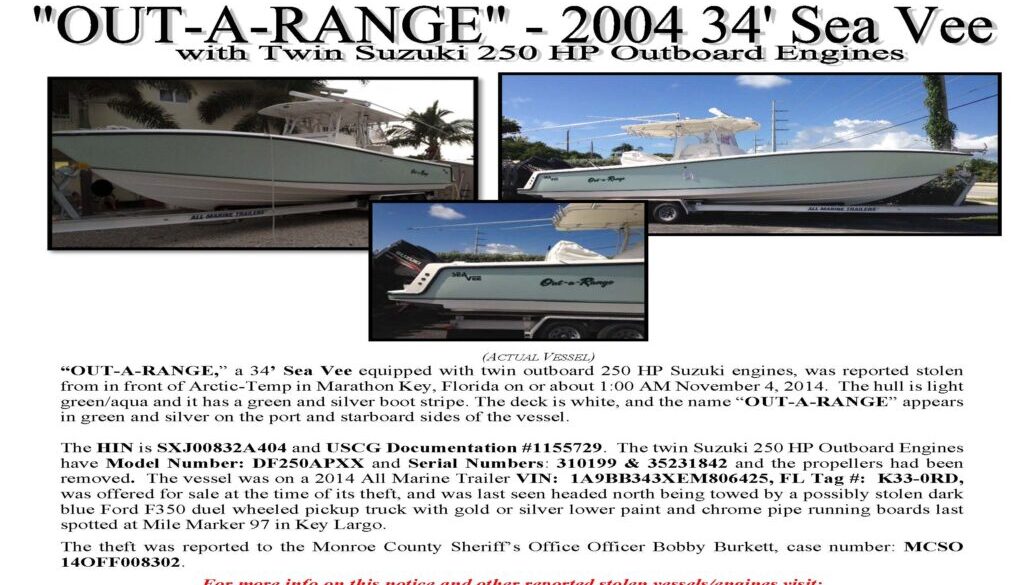 Vessel Name: "OUT-A-RANGE"
Vessel Description: "OUT-A-RANGE," a 34' Sea Vee equipped with twin outboard 250 HP Suzuki engines, was reported stolen from in front of Arctic-Temp in Marathon Key, Florida on or about 1:00 AM November 4, 2014. The hull is light green/aqua and it has a green and silver boot stripe. The deck is white, and the name "OUT-A-RANGE" appears in green and silver on the port and starboard sides of the vessel.

The HIN is SXJ00832A404 and USCG Documentation #1155729. The twin Suzuki 250 HP Outboard Engines have Model Number: DF250APXX and Serial Numbers: 310199 & 35231842 and the propellers had been removed. The vessel was on a 2014 All Marine Trailer VIN: 1A9BB343XEM806425, FL Tag #: K33-0RD, was offered for sale at the time of its theft, and was last seen headed north being towed by a possibly stolen dark blue Ford F350 duel wheeled pickup truck with gold or silver lower paint and chrome pipe running boards last spotted at Mile Marker 97 in Key Largo.
The theft was reported to the Monroe County Sheriff's Office Officer Bobby Burkett, case number: MCSO 14OFF008302.
Vessel Manufacturer: Sea Vee
Engine Manufacturer: Suzuki
Engine Serial Numbers: 310199 & 35231842
Date of Loss: November 4, 2014